Next weekend is the Fourth of July, one of my favorite holidays. I can spend weeks figuring out what I want to serve at a party. Books will be scattered all over the living room and I comb through them looking for things I can make ahead, that are somewhat traditional, and yet have an interesting twist. This week I'll be sharing some of my favorites for entertaining on hot days, especially when there are fireworks in the evening! What are some of your favorites to take on picnics or to summer parties? Today's recipe is for Ice Cream Sandwiches, a favorite from childhood, yet with a change from the normal vanilla ice cream. You can use any ice cream or cookie flavor that you like, I'm sharing recipes for mint chip ice cream and chocolate cookies. You could use chocolate chip cookies and fill them with chocolate ice cream, or orange cookies with vanilla, or sugar cookies with strawberry. The combinations are nearly endless. What sounds fun to you?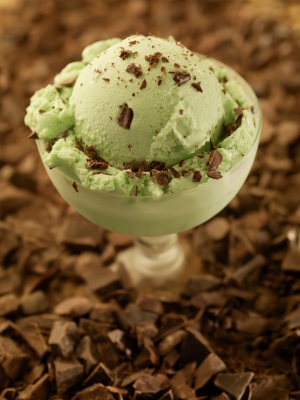 David Lebovitz is one of this country's finest pastry chefs and cookbook authors, and was a pastry chef at Chez Panisse. I highly recommend all of his cookbooks and suggest you subscribe to his blog. He lives in Paris and always has fun anecdotes of life in the City of Lights. He is also very responsive to questions, something I really appreciate! I saw today's ice cream recipe on his blog and I immediately thought it would make a fun food for the Fourth. The only question was what kind of chocolate cookie would make the best "sandwich." Lucky for me David had already thought of it and had a recipe in his book The Perfect Scoop!
Jane's Tips and Hints:
You can make these sandwiches ahead and keep them in the freezer. They are a great snack after a hot day in the sun! For an easier version, you can also use store-bought ice cream. If it is in a round container, just soften and slice into circles and sandwich between two round cookies. If you prefer rectangles, bake the cookies like a bar cookie, spreading the dough into a baking sheet with sides. Bake, score, and cool. Soften the ice cream and spread into a baking sheet with sides. Cut into the same size as the cookies. Sandwich between cooled cookies and enjoy!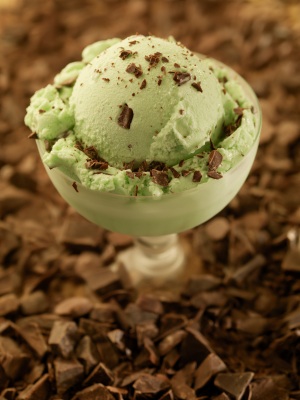 Mint Chip Ice Cream
2015-07-25 14:52:14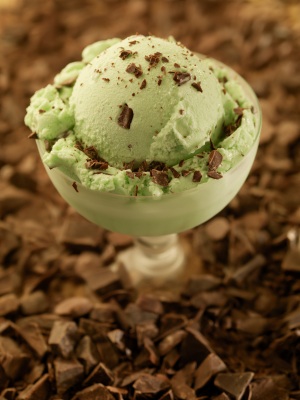 Ingredients
For the mint ice cream
1 cup (250 ml) whole milk
3/4 cup (150 g) sugar
2 cups (500 ml) heavy cream
Pinch of salt
2 cups packed (80 gr) fresh mint leaves, about
2 bunches from the store
5 large egg yolks
For the chocolate chips
5 oz (140 gr) bittersweet or semisweet chocolate, chopped
Instructions
In a medium saucepan, warm the milk, sugar, 1 cup (250 ml) heavy cream, salt, and mint. Once the mixture is hot and steaming, remove from heat, cover, and let stand for an hour to infuse the mint flavor. Remove the mint with a strainer, and then press down with a spatula firmly to extract as much mint flavor and color as possible. (You can also use well-washed hands to do it as well, making sure the mixture isn't too hot to safely handle.) Once the flavor is squeezed out, discard the mint.
Pour the remaining heavy cream into a large bowl and set the strainer over the top. Rewarm the infused milk. In a separate bowl, whisk together the egg yolks, then slowly pour some of the warm mint mixture into the yolks, whisking constantly, and then scrape the warmed yolks back into the saucepan.
Cook the custard, stirring constantly with a heat-proof spatula, until the mixture thickens and coats the spatula. If using an instant read thermometer, it should read around 170ºF (77ºC). Immediately strain the mixture into the cream, and then stir the mixture over an ice bath until cool. Refrigerate the mixture thoroughly, preferably overnight, and then freeze it in your ice cream maker according to the manufacturer's instructions.
While the mixture is freezing, melt the chocolate in a small bowl over a pot of simmering water, or in a microwave oven on low power, stirring until smooth. Place a storage container in the freezer.
When the ice cream in the machine is ready, drizzle some of the chocolate into the container, and then add a layer of the just-churned ice cream to the container. Drizzle more melted chocolate over the top of the ice cream, and then quickly stir it in, breaking up the chocolate into irregular pieces. Continue layering the ice cream, drizzling more chocolate and stirring as you go. When finished, cover and freeze until firm.
Notes
Yield: about 1 quart (1 liter)
Adapted from The Perfect Scoop by David Lebovitz
The Heritage Cook ® https://theheritagecook.com/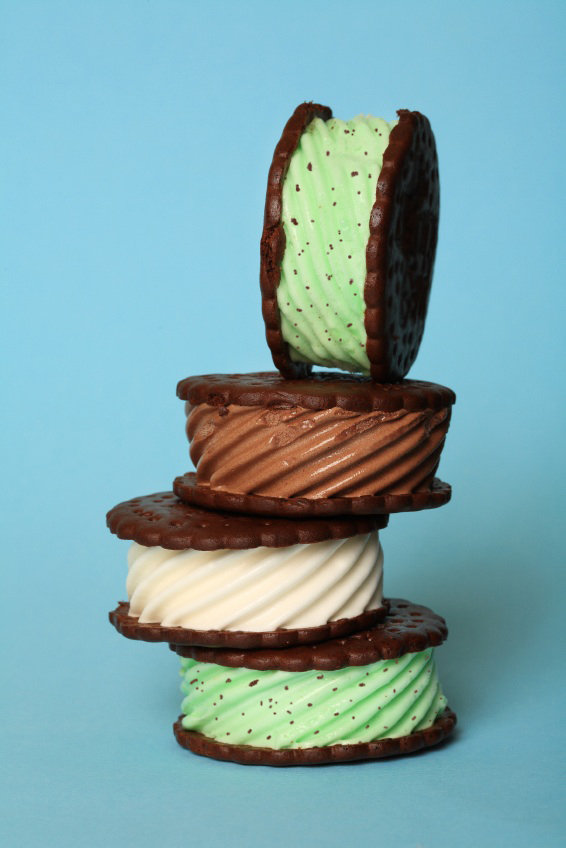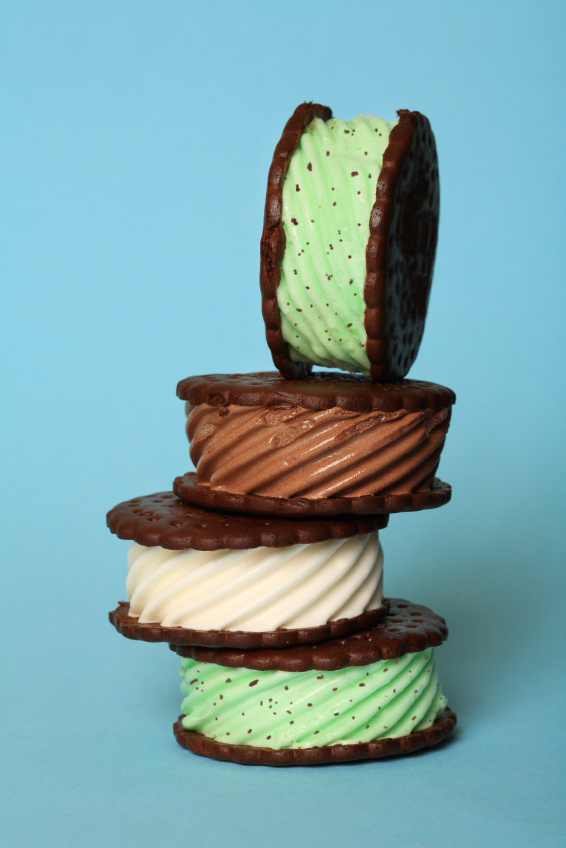 Chocolate Ice Cream Sandwich Cookies
2015-07-25 14:53:16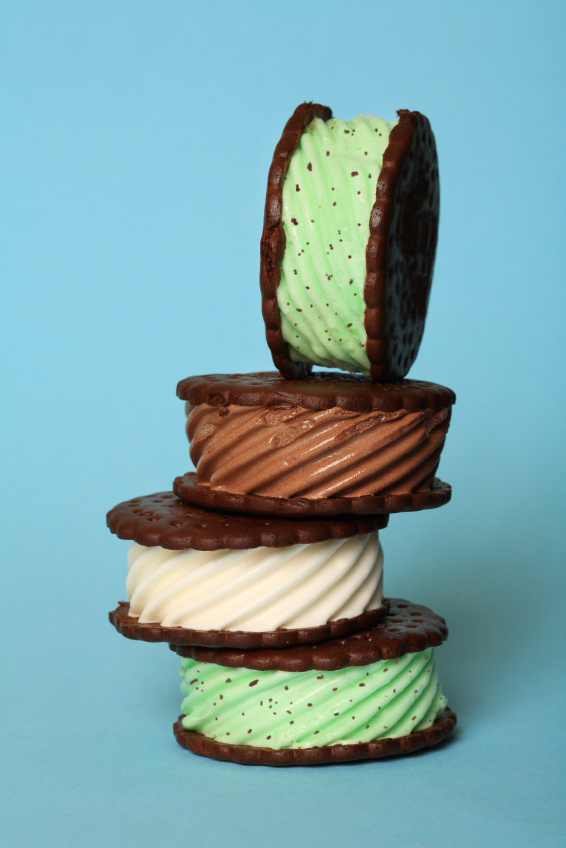 If you decide you want to use the ice cream to make sandwiches use these delicious, fudgy cookies. You can also just serve them alongside a bowl of ice cream. Either way you will love the depth of chocolate flavor!
Ingredients
6 tbsp (50 g) unsweetened Dutch-process cocoa powder
1-1/2 cups (210 g) flour
1 tsp baking powder
1/8 tsp salt
1/2 cup (115 g) unsalted butter
1 cup (200 g) sugar
1 large egg, at room temperature
1 tsp vanilla extract
Instructions
Preheat oven to 350°F (175°C). Line 2 baking sheets with parchment paper or silicone baking mats (silpats).
In a medium bowl, whisk together the cocoa, flour, baking powder, and salt. Set aside. In the bowl of an electric mixer, beat together the butter and sugar until smooth. Beat in the egg and vanilla. Slowly add the dry ingredients to the creamed mixture until there are no streaks of butter left.
Form the dough into 16 (1-1/2 inch) rounds. Flatten the rounds to 3-inch diameter circles and transfer to prepared baking sheets. Space them evenly; you should be able to get 8 on each sheet.
Bake for 20 minutes, rotating the baking sheets midway through baking time. Remove from oven and cool about 5 minutes on hot sheets. Transfer to wire racks to cool thoroughly. When completely cool, place a disk of ice cream between 2 cookies, then wrap in plastic wrap and store in the freezer.
Notes
Yield: 16 cookies, for 8 ice cream sandwiches
Adapted from The Perfect Scoop by David Lebovitz
The Heritage Cook ® https://theheritagecook.com/