The Heritage Cook is turning 5 this month and will be getting a whole new design! To celebrate, I will be hosting 12 giveaways for you guys during May. Yep, you heard right, TWELVE opportunities to WIN! Every Monday, Wednesday and Friday in May I will pick a winner for that day's prize. Follow the directions in the box below to enter! The more field you complete, the more chances you have to win. And trust me, you do NOT want to miss out on all these amazing prizes!
After each drawing, the non-winning entries will be added to the next prize set so that each entry makes you candidate for all the giveaways! The winner has 48 hours to contact me with their shipping information. If I do not hear from them, another winner will be picked and contacted.
You will have a chance to win products and services from Gourmet Garden, Organic Valley, Sabra Dipping Co., Marx Foods, Zwilling J.A. Henkels, Peppercorn Creative, and more! Plus 15 cookbooks that will entice, inspire, and help raise your kitchen skills to the next level! I am thrilled to share these with you.
To kick things off, the first giveaway is something anyone who cooks or is learning to cook will love. This prize includes a gift package of products from Sabra Dipping Co. plus a gift card to make your party swing, a copy of "The Forest Feast" (Stewart, Tabori & Chang publisher) from my friend Erin Gleeson, and a copy of "The Vegetarian Flavor Bible" by Karen Page (Little, Brown publisher). This is a great way to learn about flavors and ingredients, find creative ways to put them together, drool over glorious photos, and discover how delicious vegetarian cooking can be. Sabra gets the party started and you can try any number of recipes from the books to create the perfect gathering. This package has a value of over $100 and this is just the first day!
And now for today's recipe …
Cinco de Mayo is just a few days away and along with margaritas and hummus (from Sabra!), I wanted something new to tantalize your taste buds. We are always on the lookout for different ways to prepare chicken for our family dinners, and this is a delicious new addition to my repertoire.
You have probably seen green salsa (salsa verde) at Mexican restaurants, but may not know what it is made with. The strange little fruit that looks like a green tomato with a papery covering, the tomatillo (toh-mah-tee-yo) has a bright citrusy flavor with just a touch of heat. When you peel off the covering, the tomatillos are really sticky but a quick rinse will get rid of most of it.
When sliced open they are firm and a touch tart, adding a beautiful note to foods and sauces. There are many canned sauces available, but making it from scratch is a true treat. Nothing can compare to the bright flavor of freshly made salsa.
Salsa Roja is much more common, but when you are serving chicken or turkey, give the tomatillo salsa a try. I have a feeling you will enjoy it. And while this version does not have any heat, feel free to add jalapeno or other spicy green chile if you and your family likes it.
I liked the smoky flavor that cooking the chicken on the grill added, but you can just as easily pan fry it. Keep the seasonings on the chicken simple to let the salsa shine!
If you are looking for other menu items for your celebration, I have a number of options for you including, a collection of seven recipes for a full Mexican meal, Chocolate Tamales for a different and really fun dessert option, a Zesty, Cheesy Casserole and a Chile Relleno Casserole that are perfect comfort foods for rough days. If you are looking for a vegetarian dish, try my Elote Corn Casserole which is full of cheesy goodness. For a spicy twist on a classic, you can make my Sloppy Jose Sandwiches for your kid's next sleep over. And one of my all time favorite soups, perfect for casual lunches or a light supper, my Chile Tortilla Soup. I promise you will find lots of wonderful new recipes to enjoy.
Have a fabulous weekend – the Kentucky Derby is on Saturday – and enjoy the festivities on the Fifth. I know we will be kicking up our heels here in California! 🙂
Gluten-Free Tips:
This recipe is naturally gluten-free. If you are using a canned or jarred tomatillo salsa instead of making it from scratch, make sure you read the label to be sure there are no hidden gluten ingredients. If you have any questions, contact the manufacturer.
Grilled Chicken with Tomatillo Sauce
2015-06-17 18:16:19
Ingredients
Tomatillo Sauce
4 to 5 tomatillos, husked and rinsed, stems cut out
1/2 onion, peeled and diced
2 tbsp Gourmet Garden Lightly Dried Cilantro
1 tsp Gourmet Garden Garlic Stir-In Paste
1/2 tsp ground cumin
1/2 cup low-salt chicken broth, or more if needed
1/2 tsp kosher or fine sea salt
Chicken
4 boneless, skinless chicken breast halves
Kosher or fine sea salt and freshly ground black pepper, to taste
1 tsp onion powder
3 tsp organic olive oil
Garnishes
Gourmet Garden Lightly Dried Cilantro
Instructions
4 to 8 Hours Ahead: Set the chicken pieces on a plate and season generously with salt. Set the plate in the refrigerator. The salt will draw out a little of the moisture and then it will be reabsorbed, taking the seasoning deep into the center of the chicken, fully flavoring it. You can leave the chicken in the refrigerator up to a day in advance; cover loosely with plastic.
Make Tomatillo Sauce: Cut tomatillos in quarters. Place tomatillos, onions, cilantro, garlic, broth and 1/4 teaspoon salt in a blender or food processor; blend until smooth. Transfer to a medium saucepan, bring to a boil and cook over medium heat, stirring occasionally, until reduced by half, 12 to 15 minutes. Most of the liquid will evaporate and the remaining mixture will be thickened. Remove from the heat and set aside.
Prepare the Grill: Preheat your gas grill on High for 15 minutes or build a medium-hot charcoal fire. If using charcoal, bank most of the pieces on one side of the grill to create a 2-tier cooking area. When ready to cook, turn all but one of your burners to low and set one to medium-heat if using gas.
Brush the chicken pieces with oil and sprinkle with ground pepper. Using tongs, place the chicken over the hotter part of the grill and let cook without moving until the chicken has turned golden brown and easily releases. If the chicken is sticking to the grates, leave it alone and when it is ready, you can easily move it. Flip it to the second side, and cook again until golden. Test the internal temperature with an instant read thermometer. If it isn't up to 155°F, move it to the cooler side of the grill and keep cooking until it is done. The cooking time will depend on the heat of the fire and thickness of the breasts. Pull the pieces as they are done, leaving the larger ones over the heat a bit longer.
When done, transfer the cooked chicken to a baking sheet, cover loosely with foil and set aside to rest, finish cooking, and redistribute the juices back to the center.
Reheat the sauce if needed and serve the chicken with a dollop of the sauce on top. Sprinkle with additional cilantro.
Notes
You can serve this as a main course with sides of beans and rice, or cut into thin slices and use as a filling for tacos, burritos, or enchiladas. The chicken can be cooked ahead, wrapped and stored in the refrigerator. Reheat gently just until warmed through so it doesn't dry out.
Happy Cinco de Mayo!
The Heritage Cook ® https://theheritagecook.com/
This contest has ended. Congratulations to Winner Jennifer E!
Giveaway Product Details:
Sabra Dipping Company: There's a whole wide world of flavor out there, and Sabra invites you to experience it–one dip at a time. Inspired by flavors from around the globe, Sabra's dips are authentic and made with the freshest ingredients and most delicious spices. With Sabra's amazing range of flavors, you can dip life to the fullest. Sabra has graciously donated 10 product coupons and $25 gift card for this prize package.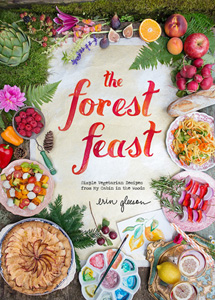 The Forest Feast (Stewart, Tabori and Chang): Erin Gleeson made her dream a reality when she left New York City and moved into a tiny cabin in a California forest in order to be closer to nature. The natural beauty of her surroundings and the abundance of local produce serve as the inspiration for The Forest Feast, based on her popular blog. Most of the book's 100 wholly vegetarian recipes call for only three or four ingredients and require very few steps, resulting in dishes that are fresh, wholesome, delicious, and stunning. Among the delightful recipes are eggplant tacos with brie and cilantro, rosemary shortbread, and blackberry negroni. Vibrant photographs, complemented by Erin's own fanciful watercolor illustrations and hand lettering, showcase the rustic simplicity of the dishes. Part cookbook, part art book, The Forest Feast will be as comfortable in the kitchen as on the coffee table.
The Vegetarian Flavor Bible (Little, Brown and Company): Emphasizing plant-based whole foods including vegetables, fruits, grains, legumes, nuts, and seeds, this book provides an A-to-Z listing of hundreds of ingredients, from açaí to zucchini blossoms, cross-referenced with the herbs, spices, and other seasonings that best enhance their flavor, resulting in thousands of recommended pairings. The Vegetarian Flavor Bible is the ideal reference for the way millions of people cook and eat today– vegetarians, vegans, and omnivores alike. This groundbreaking book will empower both home cooks and professional chefs to create more compassionate, healthful, and flavorful cuisine.
Create a New Tradition Today!
Let's connect! If you ever need any entertaining or cooking advice, need to alter a recipe for gluten-free, or want recipe suggestions, don't hesitate to contact me. Thanks for joining the Heritage Cook Family!
Unauthorized use, distribution, and/or duplication of proprietary material from The Heritage Cook without prior approval is prohibited. This includes copying and reprinting content and photographs. If you have any questions or would like permission, I can be contacted via email. Feel free to quote me, just give credit where credit is due, link to the recipe, and please send people to my website, www.theheritagecook.com. Please see the Disclaimers page for additional details.
This site is not intended to provide medical advice. The suggestions here are not intended as dietary advice or as a substitute for consulting a dietician, physician, or other medical professional. It is the reader's sole responsibility to determine which foods are appropriate and safe for their family to consume. Always consult your doctor. The author makes no claims regarding the presence of food allergens and disclaims all liability in connection with the use of this site.
Thank You!