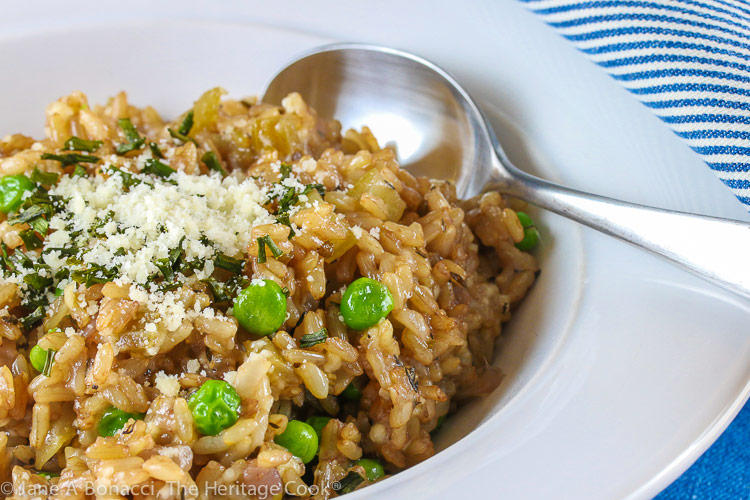 This Creamy Parmesan Brown Rice is similar in texture to risotto and uses a short grain rice for a slightly chewy texture and nutty flavor that enhances every bite. Rich and cheesy, this is an excellent side dish for grilled meats or it makes a delicious vegetarian main course.
The recipe is from my latest book, The Gluten-Free Instant Pot Cookbook written with my friend Sara De Leeuw and published by Harvard Common Press. With over 100 recipes, you will have lots of options to choose from.
When I had to go gluten free, I initially replaced all the pasta we normally ate with rice. But it soon became boring, with me making the same dishes over and over. So, I started looking for ways to incorporate lots of flavor into rice. This Creamy Parmesan Brown Rice was a creation of mine.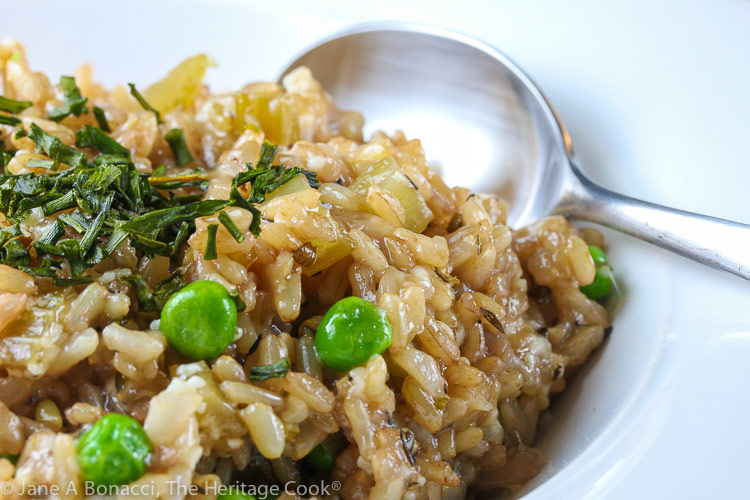 Risotto is one of my favorite ways to prepare rice, but I get frustrated with all the stirring at the stove. Normally you make risotto with Arborio rice, but by using a short grain rice, which has more starch in it, in your Instant Pot you get a dish that is very similar to risotto with none of the hassle and stirring.
The Instant Pot has taken the country by storm and rightfully so. It is a remarkable piece of equipment. It can do so many things and replaces a number of other cooking implements, earning its reputation as a true workhorse in the kitchen.
I got a lot of practice with it when I was writing the cookbook and quickly became very comfortable with all the noises it makes. If you've been afraid to try yours, this is a good recipe to play with. You can use a couple of different settings, nothing too fancy, and practice different types of pressure releases. Soon you'll be a pro!
If you want more recipes to make in your Instant Pot or other electric pressure cooker, pick up a copy of our cookbook. We make recommendations for using gluten-free products, but you can substitute regular ingredients if you don't need to be gluten free.
I hope you make this Creamy Parmesan Brown Rice soon – maybe next weekend to go alongside your grilled meats or poultry? That would be delicious!
And don't forget to check out the links below the recipe for more wonderful ways to use your Instant Pot!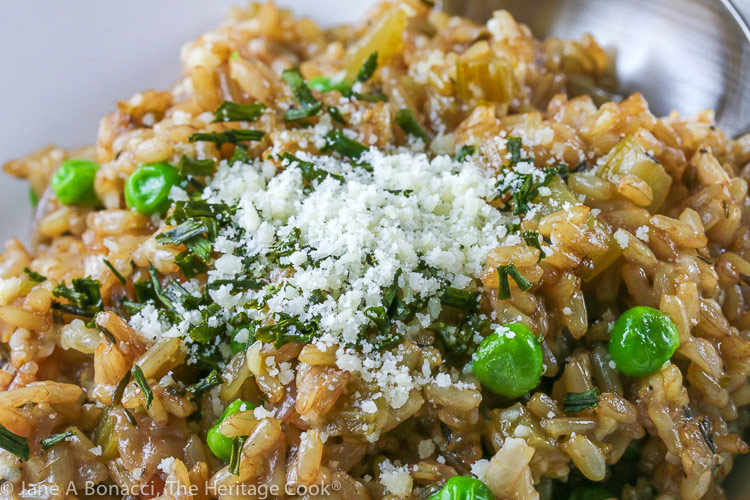 Key Ingredients for Creamy Parmesan Brown Rice:
Olive or vegetable oil

Onion, carrot, bell pepper

Short grain brown rice

Dry white wine or dry vermouth

Vegetable stock or water

Parmesan, Monterey Jack, or dairy-free cheese

Thyme and oregano

Black pepper

Frozen peas
What type of rice do I need to use for this recipe?
The recipe calls for short-grain brown rice, but you could use a medium-grain brown rice if that's what you have in your pantry. You can use the same cooking directions and timings. It just won't be quite as creamy because it has less natural starch in it, but the dish will still be delicious and a crowd pleaser.
All I have is white rice in my pantry, can I use that?
You can, but you have to adjust the cooking time! If it is long-grain white rice, you want to rinse it well until the water runs clear, then cook it on high pressure for 3 minutes, do a natural release for 12 minutes, then release any remaining pressure by turning the steam release handle to the venting position. Carefully open the lid and rake the grains to fluff them up (they will separate and not be very sticky) before stirring in the peas and sprinkling the cheese on top.
PRO Tip:
When using the sauté feature with a pressure cooker, always deglaze the pan before continuing with the recipe. This means adding liquid and scraping the bottom of the pan completely, being sure that nothing is stuck on the surface. This will help you avoid getting the dreaded burn notice!
How to make Creamy Parmesan Brown Rice:
Heat the oil and sauté the onions, carrots, and bell pepper until softened

Stir in the herbs then the rice, stirring to coat the rice grains with the oil

Add the wine and cook, stirring, until absorbed; pour in the broth and press Cancel

Secure the lid and turn handle to the sealing position; cook on high pressure for 23 minutes then naturally release pressure for 12 minutes and finally quick release any remaining steam

Stir in the peas and sprinkle the rice with the Parmesan, replace the lid and let rest until the peas are cooked and the cheese is melted; serve immediately
Kitchen Tools I Use to Make This Recipe (affiliate links):
Gluten-Free Tips:
Be sure the stock/broth you use is gluten-free, that is one of the places where gluten can hide. Only use dedicated wooden implements in your cooking to keep your celiac or gluten-intolerant family and friends safe. If in doubt, buy a new one!
Yield: 6 to 8 side servings
Creamy Parmesan Brown Rice - Instant Pot (GF)
Similar in texture to risotto, this uses a short grain brown rice for a slightly chewy texture that enhances every bite. Rich and cheesy, this is an excellent side dish for grilled meats or makes a delicious vegetarian main course.
Additional Time
3 minutes
Ingredients
2 tablespoons (30 ml) olive or vegetable oil
1 medium onion, finely diced
1 carrot, finely diced
1 red bell pepper, finely diced
2 teaspoons (1 g) fresh thyme leaves or 1 teaspoon dried thyme
1 teaspoon dried oregano
1 cup (180 g) short grain brown rice
1/4 cup (60 ml) dry white wine, dry vermouth, or water
1-1/4 cups (295 ml) vegetable stock or water
1/2 tsp kosher salt
1/4 to 1/2 teaspoon freshly ground black pepper
1/4 cup (35 g) frozen peas
1/2 cup (50 g) grated Parmesan, Monterey Jack cheese, or dairy-free cheese
Instructions
Press Sauté on your electric pressure cooker. Add the oil and heat until shimmering. Add the onion, carrot, and bell pepper and cook, stirring, until the onion is softened, about 3 minutes. Stir in the thyme and oregano and then stir in the rice, making sure that all the grains are coated with the oil. Add the wine and cook until it is absorbed by the rice, stirring constantly. Pour in the stock and add the salt and pepper. Press Cancel.
Close and lock the lid, making sure the steam release handle is in the sealing position. Cook on high pressure for 23 minutes. When it is finished release the pressure naturally for 12 minutes then turn the steam release handle to venting. When the pressure valve drops, unlock the lid and open it carefully.
Stir the peas into the rice and sprinkle the Parmesan over the top. Replace the lid, and let rest for about 3 minutes to cook the peas and melt the cheese. If you want a creamier consistency, stir in a little more stock. Taste and adjust seasonings if needed. Serve immediately.

Notes
Recipe from The Gluten-Free Instant Pot Cookbook; the recipe is Gluten-Free, Dairy-Free option, Vegetarian, Soy-Free, Nut-Free, Egg-Free
Nutrition Information:
Yield:
8
Serving Size:
1
Amount Per Serving:
Calories:

142
Total Fat:

7g
Saturated Fat:

2g
Trans Fat:

0g
Unsaturated Fat:

5g
Cholesterol:

10mg
Sodium:

374mg
Carbohydrates:

12g
Fiber:

1g
Sugar:

4g
Protein:

6g

Welcome to Progressive Eats, our virtual version of a progressive dinner party where each course is held at a different home. With Progressive Eats, a theme is chosen each month, members share recipes suitable for a delicious meal or party, and you can hop from blog to blog to check them out. This month's theme is Instant Pot Cooking (or pressure cooking) hosted by Karen of Karen's Kitchen Stories. We have a great mix of recipes including appetizers, entrées, sides, and dessert for you to enjoy.
See the links below for more inspiration and great recipes!
Instant Pot Favorites
Appetizers
Main Courses
Side Dish
Desserts
If you love this recipe, be sure to follow me on social media so you never miss a post:
| Facebook | Pinterest | Instagram | Twitter |
Create a New Tradition Today!
Welcome! The suggestions here are not intended as dietary advice or as a substitute for consulting a dietician, physician, or other medical professional. Please see the Disclaimers/Privacy Policy page for additional details. Unauthorized use, distribution, and/or duplication of proprietary material from The Heritage Cook without prior approval is prohibited. If you have any questions or would like permission, please contact me. We participate in the Amazon Services LLC Associates Program, an affiliate advertising program designed to provide a means for sites to earn advertising fees by advertising and linking to amazon.com. This page may contain affiliate links.