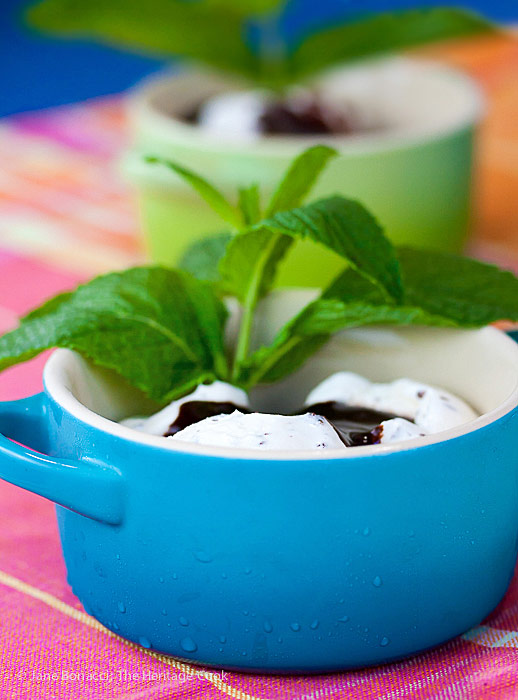 I have the perfect sauce for your ice cream sundaes. This Chocolate Caramel Sundae Sauce is made by combining a homemade caramel sauce with chocolate for the best of both worlds!
Instead of standard caramel (which I love) today we are adding chocolate for the penultimate dessert sauce. A perfect combination, the richness of homemade caramel mixed with chocolate that makes each even better!
For today's Chocolate Caramel Sundae Sauce we are using the dry method of making caramel. You don't add any water to the pan (the wet method) but let the sugar naturally melt on its own and caramelize. It can be a little scary for a beginner, but it is actually less tricky than the wet method and will caramelize much quicker.
Believe it or not, sugar is considered a liquid in recipes, not part of the dry ingredients. Because it melts when heated it adds moisture to your baked goods, good to note when you are thinking about reducing sugar in your recipes. When sugar is cooked on its own with a little cream and butter added, it becomes the most unctuous caramel sauce in the world. Cook it a bit longer and you get caramel candy! You've got to love its versatility.
Unless you are making candy, you don't need to use a thermometer to make caramel. Just cook it to a beautiful golden color, the darker the color, the richer the caramel flavor. But don't go too far because burnt caramel is nasty and you have to start over.
Always use a light-colored saucepan so you can watch the color change. A dark pan makes it very hard to see what is happening. The boiling bubbles can sometime make it a little harder to see the changes, so you can take the pan off the heat and let the bubbles subside if needed.
The minute the sugar syrup reaches the color you like, add the cream and stir until it becomes perfectly smooth. If you want some extra guidance and hints, check out the article, How to Make the Perfect Caramel by renown pastry chef and cookbook author David Lebovitz.
To make this even more fun, Michelle of My Gluten-Free Kitchen has organized a group of gluten-free bloggers who have cooked up recipes that you are going to swoon over. Be sure to check out the links below!
I hope you give this Chocolate Caramel Sundae Sauce a try and enjoy it all summer long with your homemade or store-bought ice cream or on slices of freshly baked cake! Happy Chocolate Monday!
Key Ingredients for Chocolate Caramel Sundae Sauce:
Granulated sugar

Heavy cream

Bittersweet chocolate

Salt

Vanilla extract
PRO Tip:
Always use a light-colored pan to make your caramel so you can see the color change as it happens. If you have a dark-colored pan it can be hard to see how dark the caramel it getting and you run the risk of burning it.
Is there any way to recover if I slightly burn the caramel?
Unfortunately, no. The burned flavor will ruin the entire batch. You need to start over with a clean pan. Try turning the heat down a little and be sure you keep an eye on the caramel, pulling it off the heat a little before you think you should to be safe.
PRO Tip:
When making caramel, don't walk away or get distracted. It is very easy for it to go from a lovely golden color to burned in a minute if you aren't paying attention. You will use the cream to cool down the sauce at the right moment – be sure to add it off the heat and stand back because it will bubble vigorously.
How to make Chocolate Caramel Sundae Sauce:
Melt the sugar over medium heat, swirling the pan occasionally, until deep golden color

Carefully stir in the cream off the heat; return to low heat stirring until any hardened bits of caramel have melted and the caramel is smooth

Stir in the chocolate and salt, whisking until fully melted; remove from heat and whisk in the vanilla

Serve warm or at room temperature over your favorite ice cream of slice of cake
Kitchen Tools I Use to Make This Recipe (affiliate links):
Gluten-Free Tips:
This recipe is naturally gluten-free! If you are cooking for anyone who has Celiac or is highly reactive to gluten, use a new wooden spoon or one you have set aside specifically for gluten-free cooking. Wooden products (e.g. spoons & cutting boards) can harbor minute particles of gluten that can cause havoc for your gluten-free family and friends.
Yield: about 1-1/4 cups
Chocolate Caramel Sundae Sauce (Gluten Free)
This is the perfect sauce for your ice cream sundaes … Chocolate Caramel Sundae Sauce is made by combining a homemade caramel sauce with chocolate for the best of both worlds!
Ingredients
1/2 cup granulated sugar
3/4 cup room temperature heavy cream
4 oz (113g) bittersweet chocolate, finely chopped
Pinch salt
1/2 tsp vanilla extract
Instructions
Place the sugar in a 3-quart light-colored heavy saucepan. Cook the sugar over moderate heat, without stirring, until it begins to melt. Continue cooking, gently swirling the pan occasionally, until it is a deep golden caramel color.
Remove the pan from the heat. While stirring, using a long handled wooden spoon, carefully pour in the cream - watch out, the mixture will bubble up vigorously. Once the cream is fully blended, if any of the sugar hardened, return to the low heat and simmer the mixture, stirring, until the hard pieces are dissolved and the caramel is smooth.
Add the chocolate and salt, whisking the sauce over low heat, until the chocolate is melted and the sauce is smooth. Remove from the heat and whisk in the vanilla.
Serve the sauce warm or at room temperature over ice cream, as an addition to a slice of cake, etc. Store in a covered jar in the refrigerator for up to a week.
Nutrition Information:
Yield:
6
Serving Size:
1
Amount Per Serving:
Calories:

192
Total Fat:

12g
Saturated Fat:

8g
Trans Fat:

0g
Unsaturated Fat:

4g
Cholesterol:

35mg
Sodium:

34mg
Carbohydrates:

20g
Fiber:

0g
Sugar:

20g
Protein:

1g
If you love this recipe, be sure to follow me on social media so you never miss a post:
| Facebook | Pinterest | Instagram | Twitter |
Create a New Tradition Today!
This post was first shared in Aug 2017. The article was updated in 2020.
Welcome! The suggestions here are not intended as dietary advice or as a substitute for consulting a dietician, physician, or other medical professional. Please see the Disclaimers/Privacy Policy page for additional details. Unauthorized use, distribution, and/or duplication of proprietary material from The Heritage Cook without prior approval is prohibited. If you have any questions or would like permission, please contact me. We participate in the Amazon Services LLC Associates Program, an affiliate advertising program designed to provide a means for sites to earn advertising fees by advertising and linking to amazon.com. This page may contain affiliate links.