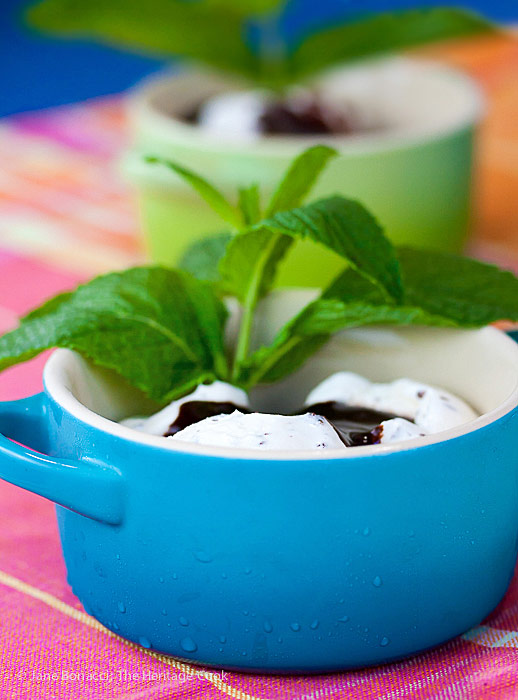 Today we have Hot August Nights Ice Cream Social Group Giveaway for you! I have the perfect sauce for your ice cream sundaes. This Chocolate Caramel Sundae Sauce is a made by combining a homemade caramel sauce with chocolate for the best of both worlds!
Wet caramel or dry caramel, that is the question. For today's Chocolate Caramel Sundae Sauce we are using the dry method. A touch scary for a beginner, but it is actually less tricky than the wet method and much quicker.
Instead of standard caramel (which I love) today we are adding chocolate for the penultimate dessert sauce. A perfect combination, the richness of homemade caramel mixed with chocolate that makes each even better!
Believe it or not, sugar is considered a liquid in recipes, not part of the dry ingredients. Because it melts when heated it adds moisture to your baked goods, good to note when you are thinking about reducing sugar in your recipes. When melted with equal parts water, you've got a simple syrup the perfect liquid sweetener, often used for cocktails and sauces. When sugar is cooked on its own with a little cream and butter added, it becomes the most unctuous caramel sauce in the world. Cook it a bit longer and you get caramel candy! You've got to love its versatility.
Unless you are making candy, you don't need to use a thermometer to make caramel. Just cook it to a beautiful golden color, the darker the color, the richer the caramel flavor. But don't go too far because burnt caramel is nasty and you have to start over.
Always use a light-colored saucepan so you can watch the color change. A dark pan makes it very hard to see what is happening. The boiling bubbles can sometime make it a little harder to see the changes, so you can take the pan off the heat and let the bubbles subside if needed.
The minute the sugar syrup reaches the color you like, add the cream and stir until it becomes perfectly smooth. If you want some extra guidance and hints, check out the article, How to Make the Perfect Caramel by renown pastry chef and cookbook author David Lebovitz.
To make this even more fun, Michelle of My Gluten-Free Kitchen has organized a group of gluten-free bloggers who have cooked up recipes that you are going to swoon over. And to sweeten the deal even more, we have a $300 Giveaway for you! Just follow the directions in the Rafflecopter below.
Good Luck – I hope you win!
Gluten-Free Tips:
This recipe is naturally gluten-free!
We're so excited to be offering a group giveaway of a $300 Amazon gift card! Just enter using this Rafflecopter entry below! Giveaway runs 8/14/17 through 8/24 at 9:00pm PDT. Open to USA residents only, 18 and older. Winner will be notified by email within 48 hours of contest close and will have 48 hours to respond before a new winner is picked. Giveaway is sponsored by the participating bloggers. Good luck!
Chocolate Caramel Sundae Sauce
2017-08-08 17:42:49
Ingredients
1/2 cup granulated sugar
3/4 cup warmed heavy cream
4 oz (113g) good-quality bittersweet chocolate (not unsweetened), finely chopped
Pinch salt
1/2 tsp vanilla extract
Instructions
Place the sugar in a 3-quart light colored heavy-bottomed saucepan. Cook the sugar over moderate heat, without stirring, until it begins to melt. Continue cooking, gently swirling the pan occasionally, until it is a deep golden caramel color.
Remove the pan from the heat, while whisking, carefully pour in the cream - watch out, the mixture, will bubble up vigorously. Once the cream is fully blended, if any of the sugar hardened, simmer the mixture over low heat, stirring, until the caramel is dissolved.
Add the chocolate and salt, whisking the sauce over low heat, until the chocolate is melted and the sauce is smooth. Remove from the heat and whisk in the vanilla.
Serve the sauce warm or at room temperature over ice cream, as an addition to a slice of cake, etc. Store in a covered jar in the refrigerator for up to a week.
Notes
Yield: Makes about 1-1/4 cups
Adapted from Gourmet magazine, June 1993
The Heritage Cook ® https://theheritagecook.com/
Check out these recipes to make your own ice cream socials the most popular on the block!
Creamy Earl Grey Infused Ice Cream by Fearless Dining
Gluten Free Vegan Brownie Ice Cream Sandwiches by Sarah Bakes Gluten Free
Gluten Free Mud Pie by What the Fork Food Blog
Roasted Pineapple Cherry Shake by Vegetarian Mamma
Chocolate Sandwich Cookie Ice Cream Sandwiches by Celiac and the Beast
Dairy Free Salted Caramel Ice Cream Pie by Allergy Free Alaska
Vegan Unicorn Pudding Pops by Flippin' Delicious
Peanut Butter Ice Cream Topping and Chips by This Vivacious Life
Pumpkin Pie No Churn Ice Cream by There is Life After Wheat
Gluten Free Waffle Cones by GF Jules
Gluten-free Caramel Sauce by My Gluten-free Kitchen
Create a New Tradition Today!
Welcome! If you ever need any entertaining or cooking advice, need to alter a recipe for gluten-free, or want recipe suggestions, don't hesitate to ask. Unauthorized use, distribution, and/or duplication of proprietary material from The Heritage Cook without prior approval is prohibited. If you have any questions or would like permission, please contact me. The suggestions here are not intended as dietary advice or as a substitute for consulting a dietician, physician, or other medical professional. Please see the Disclaimers page for additional details. Thanks for visiting The Heritage Cook!