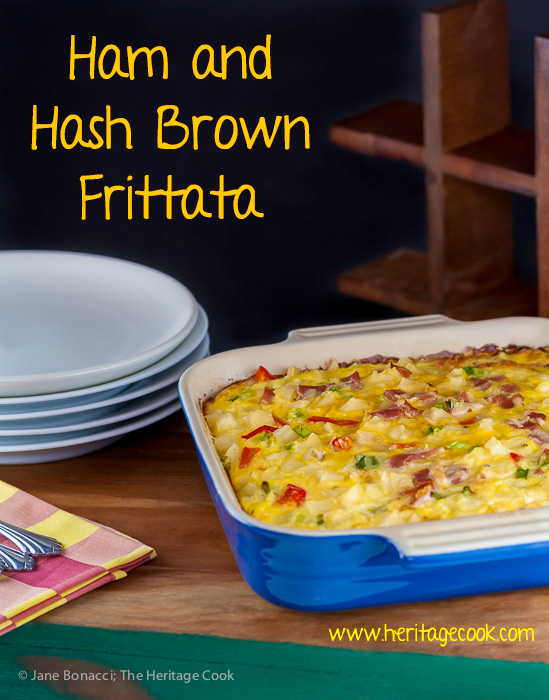 Sometimes life and the universe conspire to make things happen, things that at first appear to be catastrophic, but in hindsight turn out to be blessings.

There was a time in my life when I thought about going to culinary school and becoming a chef. I had been working in high tech and was burned out. Getting up and going to work every day was a chore and I wanted more out of life. This is where the universe stepped in.
The company I had been working for had a management change and some positions were eliminated, including mine. I was shocked, angry, and trying to focus on reworking my resume when the phone rang. My mother's cancer had come back and she only had a short time to live. I dropped everything and went to take care of her. My mother had fought it once, but this time it won. She was gone four weeks after I got the call.
Reeling and grieving, my brothers and I had to take care of everything at her house and coordinate her funeral while at the same time I was planning my own wedding, just three months away. The love and support from The Artist during this incredibly painful and challenging time made me even more certain that he was the right man for me.
I realized that if I hadn't been fired, I might have hesitated to go to my mother, worrying about my job. Losing that job was a true blessing. After the funeral it was time to start looking for another job and I had a decision to make. Do I go back to a career I didn't like or should I take a left turn and follow my dream?
A friend of mine once told me her career theory … Look at the magazines and books you purchase. Which ones do you set aside and which ones do you read cover to cover? The ones you read immediately will show you your passion ~ do what you love and the money will follow! For me it was always my food magazines and cookbooks. Yes, I read cookbooks and collect them. From the moment she asked me the question, it stuck in my mind and was an itch I couldn't scratch.
When I got back in town after the funeral, I went to a class at a local cooking school. I was speaking to the gals working there and it turned out that they needed someone to run the back office for them. It seemed that my mother was creating an opportunity for me. I started to work with them soon after our meeting. The school was attached to a restaurant so I had the unique opportunity to experience several different aspects of the food industry.
The cooking school gave me the opportunity to meet many visiting chefs and cookbook authors, often assisting with their cooking classes, and I became friends with the chefs and line cooks at the restaurant. I watched how hard the restaurant staff worked – each one, from the dishwasher to the sous chef, an indispensable part of the team being led by the executive chef. As much as I love to cook and yearn to hone that craft with more professional training, I knew that I didn't have the strength or stamina to be able to work at the pace of a restaurant.
I have inestimable respect for the chefs and line cooks who work incredibly hard because they love making food and sharing it. Anyone who works those kinds of hours has to have passion to drive them. I understand that passion because it is what drives me to create the recipes and photographs I share with you each week. My path turned away from restaurant work to writing about food and led me to create The Heritage Cook – and now my cookbook coming in 2016 is Available NOW!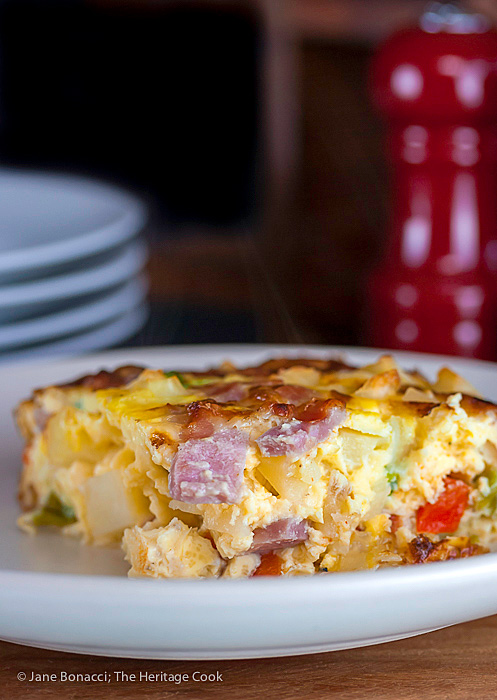 I am often asked if I make gourmet dinners for The Artist all the time. Actually my preference is for simple and delicious food, many of the classic dishes. There is nothing better than a beautifully roasted whole chicken and I'm proud to say that mine is always a winner – as long as I get it out of the oven at the right time without getting distracted by something else. 😉
Today I want to share with you the kind of recipe that home cooks like me love to make for our family and friends. When we have a houseful of people, we need easy recipes that are filling and that people will enjoy. It is especially helpful if they make use of leftovers from the evening's meal and or frozen ingredients we always have on hand – and this is one of those.
When you want an easy, delicious option for breakfast, brunch, lunch or even a light dinner, give this frittata a try. Pop it in the oven then sit down and share a cup of coffee or glass of wine with someone special while it bakes. If you want to get a little extra sleep in the morning, make this a day ahead, refrigerate it overnight, and reheat in the morning. It is just as good on the second day!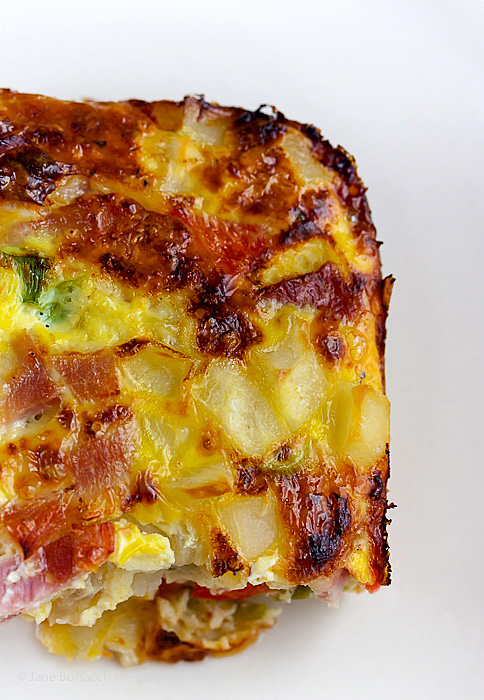 As we bring another year to an end, I am taking a moment to breathe deeply and slowly, quietly appreciating all that The Artist and I have been given. Even the challenges in life can be blessings in disguise.
I hope 2015 brings you joy and may all your dreams come true! Thank you for being part of The Heritage Cook Family.
Happy New Year!
Jane's Tips and Hints:
A day ahead, chop the vegetables and ham, and grate the cheese and store separately in airtight containers in the refrigerator. Leave the potatoes in the freezer. In the morning you just have to throw everything together, pop it in the oven and relax while it bakes. Or bake it ahead and reheat – the flavors are just as good the next day!
Gluten-Free Tips:
Almost all Ore-Ida brand frozen potatoes are gluten-free. Take a look at their website for a full list of safe foods. Be careful with the ham you buy, many are brined or injected with liquids that can contain gluten ingredients. Buying from a good butcher and asking questions will help you buy a safe slab or hunk of ham.
Ham and Hash Brown Frittata
2015-06-18 17:25:03
Ingredients
6 large eggs (or 8 if not including the ham)
1/2 cup half-and-half
Kosher or fine sea salt and ground black pepper, to taste
2 cups ham* cubes (cut into 1/4-inch dice), rind trimmed
1/2 cup green onion, white and some of the green portion chopped
1 red bell pepper, stem and seeds discarded, finely chopped
3 cups frozen diced hash browns (Ore-Ida brand is gluten-free)
1-1/2 cups (about 6 oz) grated Monterey Jack cheese, divided
Additional chopped green onion tops for garnish
Instructions
Preheat the oven to 350°F. Butter a 9-inch pie plate, quiche dish, springform pan, or square baking pan.
In a large bowl, whisk the eggs with the half-and-half, salt and pepper. Add the ham, onions, peppers, potatoes, and half of the cheese. Pour into the buttered baking dish. Sprinkle the remaining cheese over the top and place on a baking sheet. Carefully slide the baking sheet into the hot oven.
Bake until the eggs are set, about 1 hour. Depending on the material your baking dish is made of, your timing will vary. Ceramic and glass will take a little longer than metal pans. Gently shake the dish and when it is firm except right in the center, it is done. It will finish cooking as it rests. Remove from the oven. Turn on the broiler and when hot, slip the frittata back into the oven and cook until the top is lightly browned - watch closely so it doesn't burn!
Let cool about 10 minutes before cutting into wedges or squares. Sprinkle with the additional green onions for garnish and serve hot. Refrigerate any leftovers tightly covered.
This casserole reheats beautifully so you can make it a day in advance if you have a lot of houseguests. Reheat individual portions in the microwave in two to three 30-second bursts. If reheating the entire casserole, place in a 250°F oven until warmed through.
Notes
Yield: 6 servings
This is a great and easy way to use up the leftover ham or turkey from your holiday dinners and feed the hungry crowd in your home. It is great for brunch, lunch or a light dinner. For a vegetarian version, leave out the meat and increase the eggs to 8.
* You can substitute leftover turkey or another meat in place of the ham. Some hams are brined or injected with liquids that may contain gluten. Carefully read the label before using. Leave out the meat for a vegetarian option.
The Heritage Cook ® https://theheritagecook.com/
Create a New Tradition Today!
Let's connect! If you love The Heritage Cook, you can follow me on Pinterest, Facebook, and Twitter. If you ever need any entertaining or cooking advice, need to alter a recipe for gluten-free, or want recipe suggestions, don't hesitate to email me. Thanks for joining the Heritage Cook Family!
This site is not intended to provide medical advice. The suggestions here are not intended as dietary advice or as a substitute for consulting a dietician, physician, or other medical professional. It is the reader's sole responsibility to determine which foods are appropriate and safe for their family to consume. Always consult your doctor. The author makes no claims regarding the presence of food allergens and disclaims all liability in connection with the use of this site.
Unauthorized use, distribution, and/or duplication of proprietary material from The Heritage Cook without prior approval is prohibited. This includes copying and reprinting content and photographs. If you have any questions or would like permission, I can be contacted via email. Feel free to quote me, just give credit where credit is due, link to the recipe, and please send people to my website, www.theheritagecook.com. Please see the Disclaimers page for additional details.
Thank You!