I love taking cooking classes. No matter how much I think I may know I always learn something new. It can be something as little as a new way to utilize a common kitchen tool, a trick to protect me from making a common baking mistake, or some new information about ingredients or the way they are combined that completely changes the way I think about a dish.
Yesterday I had the pleasure and honor of attending a cooking class with the amazing Elizabeth Faulkner. The founder and executive chef at Citizen Cake and Orson, she is a delightful woman with an extraordinarily creative approach to food and its presentation. Renown for her ability to apply classic techniques to updated food combinations, eating at her restaurants is an experience that shouldn't be missed.
Elizabeth grew up loving food and cooking. After majoring in film studies and graduating from the San Francisco Art Institute, she worked in the food industry to pay bills. She often found herself in the kitchen, cooking for her co-workers and managers. Eventually she worked in the pastry departments at some of San Francisco's finest restaurants including Masa's, Elka and Rubicon.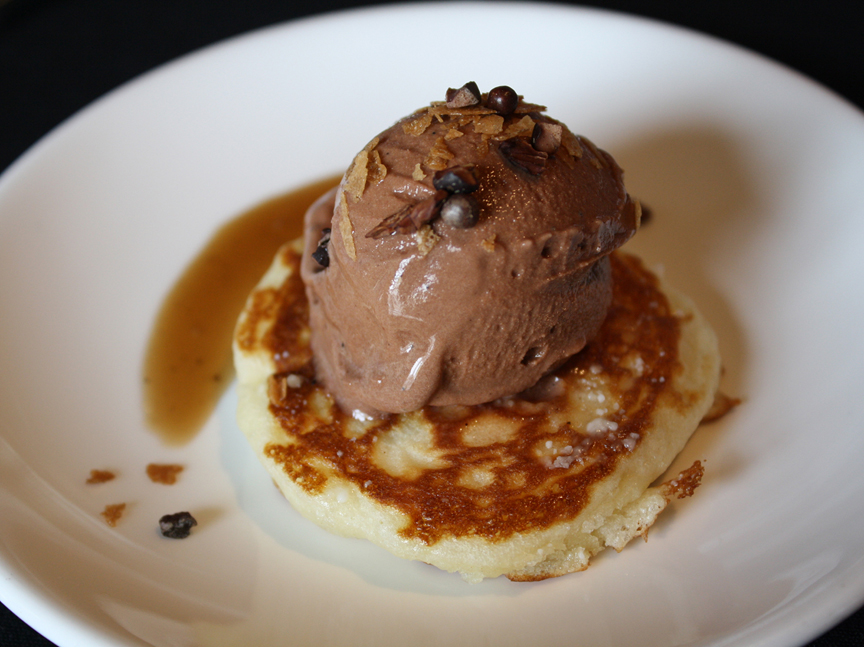 When she went to dinner at Traci Des Jardin's Rubicon she was stunned by the creative and beautiful dishes on the menu. But when it was time for dessert she was decidedly unimpressed. She knew that she could help make the desserts as spectacular as the rest of the menu. She approached Chef Des Jardin with examples of her baking skills, suggestions for dessert options and was hired on the spot. In 1997 she opened Citizen Cake and won accolades for her desserts. With a beautiful wood-burning oven on site, she just couldn't resist serving pizzas and the menu evolved to include savory items as well as desserts.
While she has always loved the sweet side of life, Elizabeth knew that she wanted to express her vision with savory foods as well and opened Orson a little over 3 years ago. Noted for its duck-fat French fries, a burger with foie gras, creative thin-crust pizzas and outstanding comfort foods with a twist, Orson is the kind of place everyone in San Francisco loves. A cozy dining area attended by highly skilled servers, a large oval bar that dominates the room with a seating area adjacent filled with soft sofas and lounge chairs, urging groups to relax and enjoy spending time together. Orson is the perfect place for your next special celebration.
If you cannot visit San Francisco easily, you can get a feel for her brilliance in her award winning cookbook "Demolition Desserts." Illustrated by her brothers, it covers everything from the cookies, brownies, and cupcakes she has long been known for, an extensive list of core recipes everyone should know, to the more elaborate plating techniques and ingredient combinations that have made her legendary. Each one has a streamlined version to help home cooks who don't have as much time to dedicate to complicated preparations.
When I heard that Elizabeth was offering classes at her restaurant Orson, I leapt at the chance to learn from one of my favorite chefs. Ice creams are one of those desserts that everyone loves but few venture far beyond vanilla, chocolate, or strawberry. Elizabeth challenges us to look at it as one component of a larger offering, making daring combinations that she shrugs off as just a different way of looking at food. Our first taste was a traditional vanilla that was enhanced with a drizzle of extra virgin olive oil and a sprinkling of porcini salt crystals. It was incredible, the oil and salt offering a complexity and texture that were eye opening.
While most chocolate ice creams are rather bland and ordinary, the Mocha Gelato we had yesterday was absolutely incredible. It explodes in your mouth with a deep, rich chocolate flavor that is enhanced by espresso. Despite the absence of egg yolks, it coats your tongue with a sensation of a full-fat ice cream. One bite of this gelato and you will swear off any other version. I have found my chocolate gelato nirvana, and it is thanks to Chef Faulkner!
Above all else, Elizabeth wants everyone to have fun. Just to add a little excitement to the class, she brought liquid nitrogen into the class and made instant ice cream by freezing it right in front of us. We were delighted to watch and as it spread over the black-draped table, the nitrogen looked just like the San Francisco fog rolling in over the Golden Gate Bridge. Dive into today's ice cream and then go buy "Demolition Desserts" to discover more of Elizabeth's dynamic creations. And don't forget, whenever you are preparing food for others, make it a fun experience for everyone!
Jane's Tips and Hints:
As Chef Elizabeth emphasized, do not limit your horizons when it comes to ice cream. Consider it simply a cold sauce, no required to be sweet. Savory flavors, like her Bleu Cheese Ice Cream, are absolutely astonishing. She serves this as part of deconstructed buffalo chicken wings, with fried chicken "nuggets," a scoop of the bleu cheese ice cream and a hot Tabasco-spiced barbecue sauce. It will completely change the way you think about ice cream and its roll in our cuisine.
Kitchen Skill: Tempering Ingredients
Tempering is the act of gently combining cold ingredients into hot. Always utilized when introducing eggs into a hot liquid, it is also used to improve the consistency or resiliency of a substance. You start by whisking the cold ingredients thoroughly. Then add a small amount of the hot liquid, stirring constantly. Add a little more of the hot liquid, warming the cold ingredients sufficiently so that when you stir them into the remaining hot liquid they are incorporated smoothly.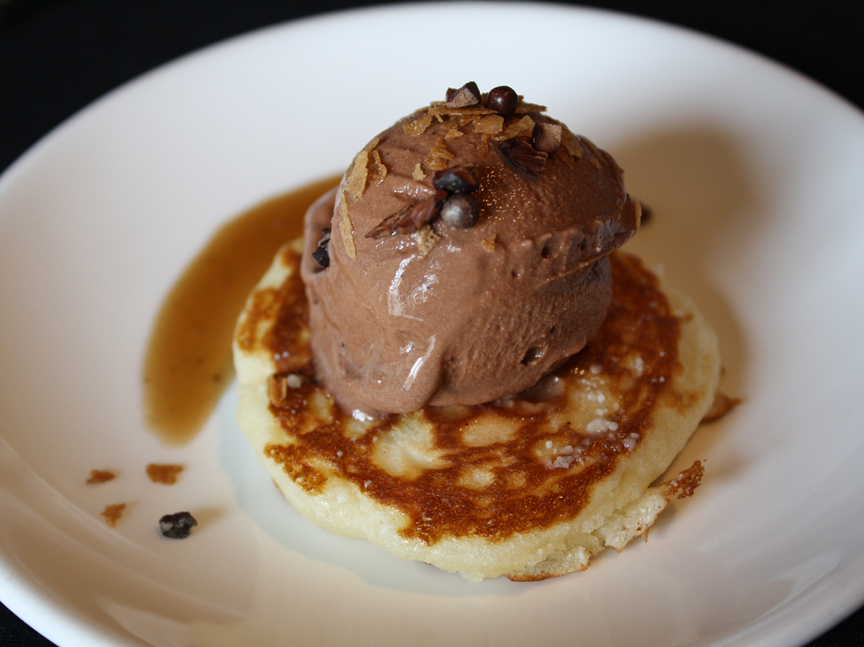 Mocha Gelato
2015-07-10 17:02:16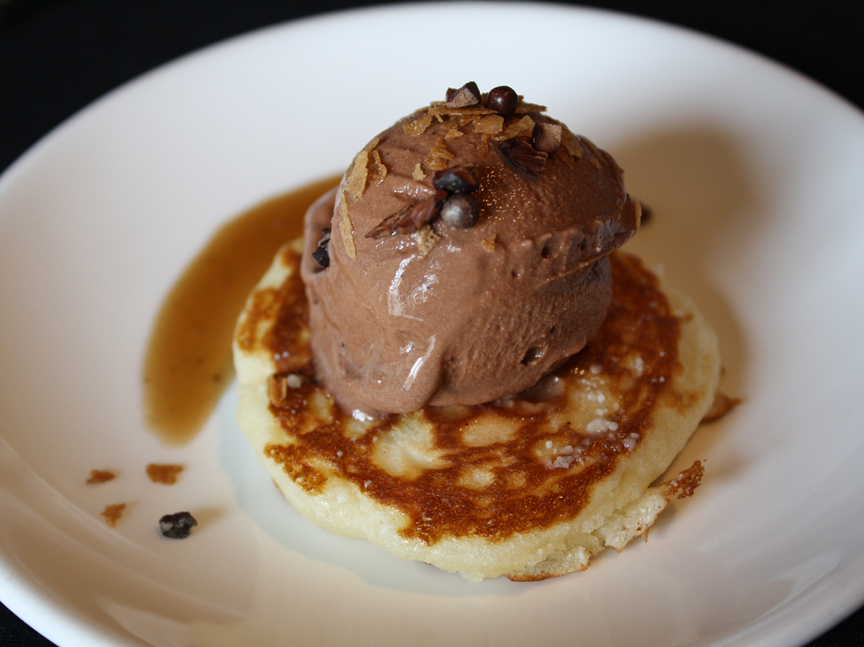 Ingredients
1 quart milk
3 oz corn syrup
4 oz granulated sugar
1/2 oz cornstarch
2 oz cocoa powder
Pinch salt
8 oz chopped milk chocolate
1 oz shot of espresso
1 tsp espresso powder
Instructions
Place the milk and corn syrup in a medium saucepan. Over medium heat, bring to just below a boil, scalding the milk. Remove from the heat.
In a bowl, combine the sugar, cornstarch and cocoa powder. Use a whisk to blend thoroughly. Pour about 1 cup of the hot milk into the dry ingredients, whisking to blend. Stir this mixture back into the remaining hot milk in the saucepan. Return to the heat and simmer over low heat for 4 minutes, whisking constantly.
Place milk chocolate in a large heatproof bowl. Pour the hot milk mixture over the chopped chocolate, stirring until melted. Add the espresso and espresso powder. Whisk until chocolate is completely melted and all ingredients are well blended.
Transfer to the refrigerator and chill at least 8 hours before churning according to manufacturer's instructions.
You can serve small scoops of the ice cream on top of silver dollar pancakes. Sprinkle the top with very finely chopped nuts, cocoa nibs, brittle, etc. Decorate the plate with a stripe of coffee caramel if desired.
Notes
Yield: About 1 quart
The Heritage Cook ® https://theheritagecook.com/
Unauthorized use, distribution, and/or duplication of proprietary material without prior approval is prohibited. If you have any questions or would like permission, I can be contacted via email at: heritagecook (at) comcast (dot) net. Feel free to quote me, just give credit where credit is due, link to the recipe, and please send people to my website,
www.theheritagecook.com.
Thank You!