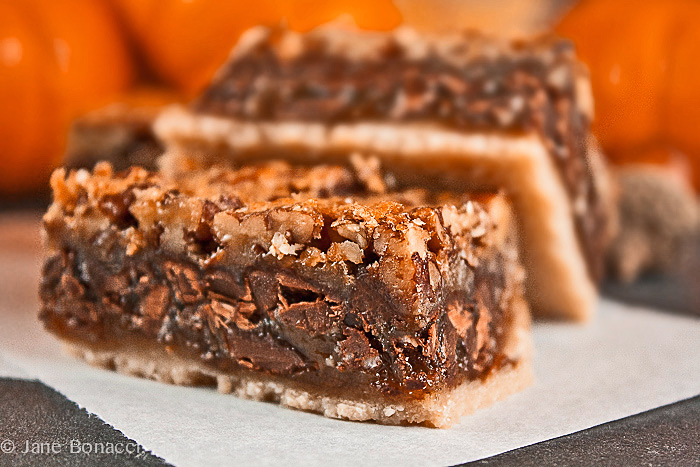 Baking has always come easily to me thanks to my grandmother Mimi. From my earliest memories, when I needed to stand on a chair to watch as she cooked at the stove, making homemade candies, desserts, and meals with the sure hand born of years of cooking for her family. I marveled at how good everything tasted when she cooked and was fascinated to learn everything I could from her.
Mimi taught me which ingredients needed to be carefully measured and those that could be added to taste. With her calm and confidence to guide me, I never had the fear of baking that most people grow up with. Mimi died when I was only ten, but she had already given me the foundation of basic skills I needed. She continues to be my inspiration and I can feel her hands guiding mine as I cook and bake.
I started by baking with cake mixes and graduated to making cakes from scratch. It is nearly as easy to put together your own ingredients as it is to use a boxed mix and everything tastes infinitely more delicious. And of course you have far fewer preservatives and additives, making homemade treats much healthier for us.
When I was little I helped my mother roll out the dough and bake, trying to memorize the nuances of each step and all the little tricks. When I was about 12 or 13 I took over the baking for the family. Mom was thrilled to no longer have that responsibility; cooking and baking were not her passions. She preferred puttering in the garden and growing beautiful plants.
My oldest brother Mike's favorite dessert is pecan pie and I made one each year for his birthday and then again for Thanksgiving. I am sure that those early pies were barely edible but my brothers and parents were good sports and very supportive, giving me the much needed approval that any budding artist needs to boost their confidence. Practice definitely helps and in time my pie crusts became a thing of beauty, easy to work with, tender and flaky, winning ribbons when I entered them in competitions.
And then I was diagnosed with gluten-intolerance and the flour that I was used to working with and knew exactly how it behaved had to be thrown out. I have spent the last year learning how the variety of gluten-free flours work, their idiosyncrasies and what adjustments need to be made to regular recipes to make them work.
For the first time in my life I am nervous about baking. I have had great successes with cookies and cakes, making a variety of beautiful desserts. I haven't tackled pie crusts or bread yet but I probably will be making a pie in the next week or two in preparation for Thanksgiving. I have some incredibly talented friends who bake gluten-free pies giving me guidance so I am hopeful for a decent first attempt!
In the meantime for those of you who are also intimidated by making your own pie crusts from scratch, here is a fantastic dessert that has all the flavors you want for your Thanksgiving table, travels beautifully if you are visiting friends or family, and is much easier to make than a traditional pie.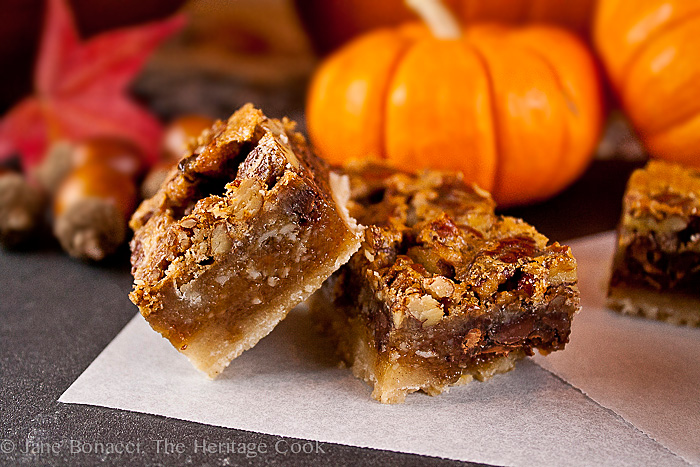 This is also a fantastic dessert to have your kids help you make. They would love patting the crust into the pan, whisking the ingredients for the filling (you don't even need to pull out the mixer), and drizzling the chocolate over the top!
I hope you try these fun, easy dessert bars. They have all the flavor of pecan pie without any of the pain of making a crust if that scares you. I'm pretty sure my brother Mike would be thrilled with them and hope you will be too!
Happy Chocolate Monday!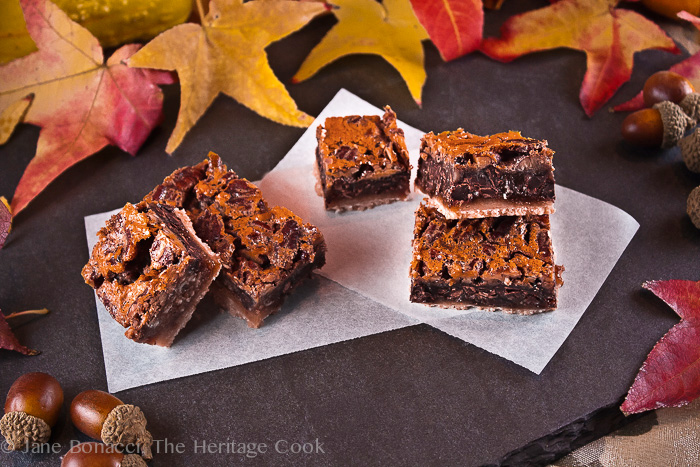 Jane's Tips and Hints:
Whenever you are making bar cookies, brownies or anything that needs to be removed from the baking pan before cutting, create a "sling" with parchment or foil. Extending the length on two opposite sides of the pan gives you "handles" you can use to lift the entire bar out without needing to flip it out and then re-invert back right side up.
Gluten-Free Tips:
Use the recommended gluten-free ingredients.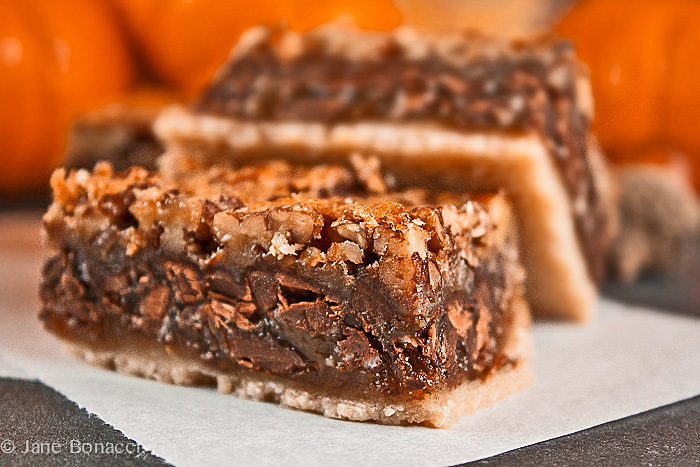 Chocolate Chip Pecan Pie Bars
2015-06-29 15:59:41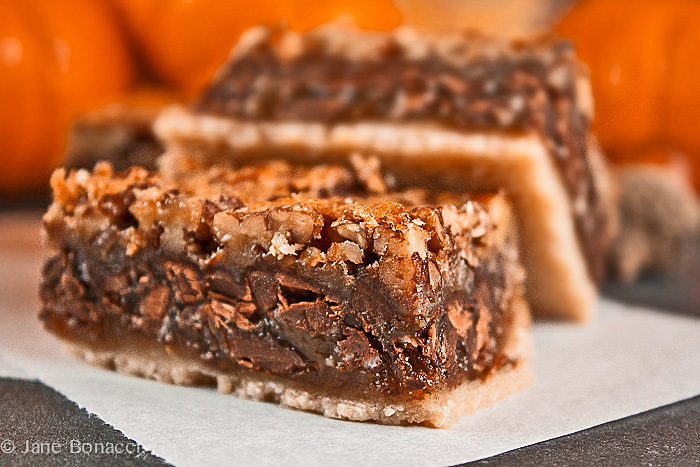 Ingredients
Crust
1/2 cup (1 stick) butter, at room temperature, plus extra for the pan
1 cup all-purpose flour, gluten-free all-purpose flour, or
1/2 cup sorghum flour + 1/2 cup tapioca starch
1/4 cup granulated sugar
Filling
1 cup pecan halves, coarsely chopped into 1/4 to 1/2-inch pieces
2 oz (1/2 stick) butter, melted and cooled slightly
3/4 cup firmly packed brown sugar (use dark sugar for more molasses flavor)
1-1/2 tbsp unbleached all-purpose flour, sorghum flour, or gluten-free flour blend
3 large eggs, beaten
3/4 cup dark corn syrup or Steen's Golden Syrup
1/2 tbsp pure vanilla extract
6 oz semisweet chocolate chips
Topping (optional)
6 oz semisweet or milk chocolate chips, for drizzling
Instructions
Set an oven rack in the center and preheat to 325°F.
Butter the bottom and sides of a 9x9-inch baking pan. Cut a piece of parchment paper wide enough to fit the bottom of the pan and long enough to hang over two sides to give you "handles". (This will help you remove the bars from the pan later.) Press into the pan and lightly butter parchment. Set aside.
Make the Crust: In a small saucepan over medium heat, melt the butter. In a mixing bowl combine the flour (or gluten-free flours) and sugar. Pour in the melted butter and whisk until it comes together into a paste-like mixture. Transfer to the prepared pan and using your hands, evenly pat into pan, covering the bottom completely. Bake for 10 minutes. Remove from the oven and set aside while you make the filling.
Make the Filling: Toast the pecans on a baking sheet in the hot oven until you can smell them, about 5 to 10 minutes. Set them aside to cool to lukewarm.
In a small heatproof bowl, melt the butter in the microwave; about 30 seconds on High. Set aside to cool slightly.
In a large bowl, combine the flour and brown sugar, whisking until evenly blended. Add the beaten eggs, corn syrup, and vanilla. Whisk until smooth. Pour in the melted butter, whisking again until smooth. Stir in the chocolate chips and pecans.
Pour the filling over the crust and make sure the nuts and chocolate chips are evenly distributed.
Bake the Bars. Place the pan into the preheated oven and bake for 50 to 60 minutes, or until the filling is firm but the center is still slightly jiggly. Remove from the oven and set on a wire cooling rack. The residual heat will finish the cooking. Cool to room temperature. Cover and refrigerate until firm for easiest cutting. You can also place it in the freezer for about 20 minutes.
To Serve: Use a flexible metal spatula to loosen the sides, and then using the parchment paper "handles" lift the bar out of the pan. Place on a cutting board and using a very sharp knife, first trim a thin strip off each side and then cut into either rectangles or squares. Trimming removes the crunchier part giving you perfect edges, making your baked goods look just like the professionally made ones!
If you want to add a chocolate drizzle, place the bars on a wire rack set over a sheet of parchment. Melt 6 oz chocolate chips in the microwave and use a spoon to drizzle a thin stream of chocolate over the cut bars.
Store in the refrigerator, in an airtight container. Set on the counter about 30 minutes before serving.
Notes
Yield: about 16 squares
The Heritage Cook ® https://theheritagecook.com/
Create a New Tradition Today!
Unauthorized use, distribution, and/or duplication of proprietary material from The Heritage Cook without prior approval is prohibited. This includes copying and reprinting content and photographs. If you have any questions or would like permission, I can be contacted via email at theheritagecook (at) comcast (dot) net. Feel free to quote me, just give credit where credit is due, link to the recipe, and please send people to my website, www.theheritagecook.com. Please see the Disclaimers page for additional details.
Thank You!