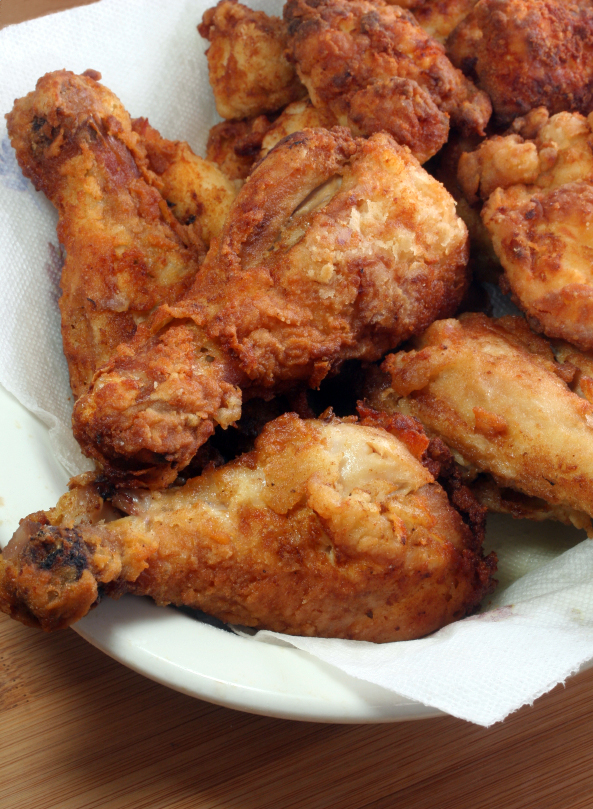 I have a passionate love affair with fried chicken. There is no restaurant or homemade meal that brings me more pleasure. I am on a constant search for the finest fried chicken in the country and have collected dozens of recipes over the years, but this is my absolute favorite. It incorporates all the best ingredients and techniques, and it was created by one of my favorite chefs. Winner, winner, chicken dinner!!
Carla Hall is the southern chef who stole our hearts on Top Chef with her infectious joy and "Hooty Hoo" hollers created this killer fried chicken recipe. These days you can find Carla on the set of The Chew, ABC's daily talk/cooking show. Carla joins Mario Batali, Clinton Kelly, Daphne Oz, and Michael Symon in an hour of joyous celebration of all aspects of entertaining, but the primary focus is definitely food. With Mario and Michael, both Iron Chefs, and Top Chef contestant Carla, there is plenty of talent to thrill the foodie in all of us.
A few months ago there was a fried chicken throw-down on The Chew and Carla's won, beating Michael Symon's fantastic entry. That's some heavy competition and honestly, both were terrific, but Carla's is a cross between Zuni Café's famous roasted chicken and my own grandmother's fried chicken. You can guess which one won in my book!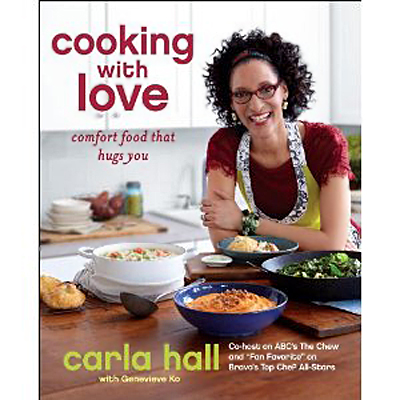 And speaking of books, Carla has a cookbook you will love. "Cooking with Love: Comfort Food That Hugs You" will definitely be finding a home in my library. You can order it now on Amazon and have it in time to give as holiday gifts to the food lovers in your life.
Today's recipe utilizes an overnight dry rub that draws out the moisture and then reabsorbs it along with the seasonings, dispersing the flavors throughout the meat. Carla then uses buttermilk as a dip for the chicken giving it the customary tang without making the meat mushy. A final dusting of flour and cornstarch coats the chicken lightly, giving you a perfectly crispy crust. This chicken is about as close to heaven as you can get and still be breathing.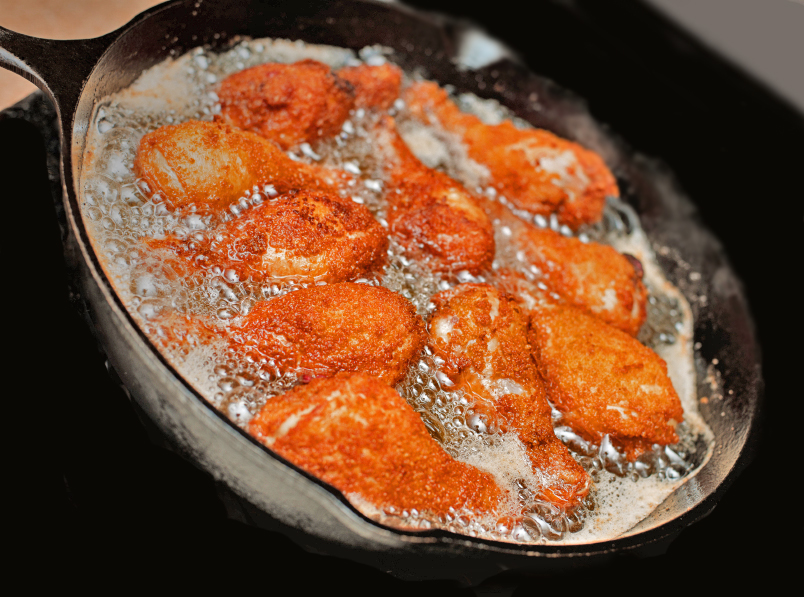 If you are feeding children, you can use the same recipe but make it with chicken tenders or boneless breasts cut into nugget shapes. Dredge and cook as directed, reducing the cooking time accordingly. The small boneless nuggets will cook much faster than bone-in pieces.
I dare you to taste this chicken and not fall instantly in love. If you still think other versions beat this one, I want to hear about them. After all, my goal is to find the very best fried chicken in the world!
Happy frying and as Carla says, "Always Cook with Love"!!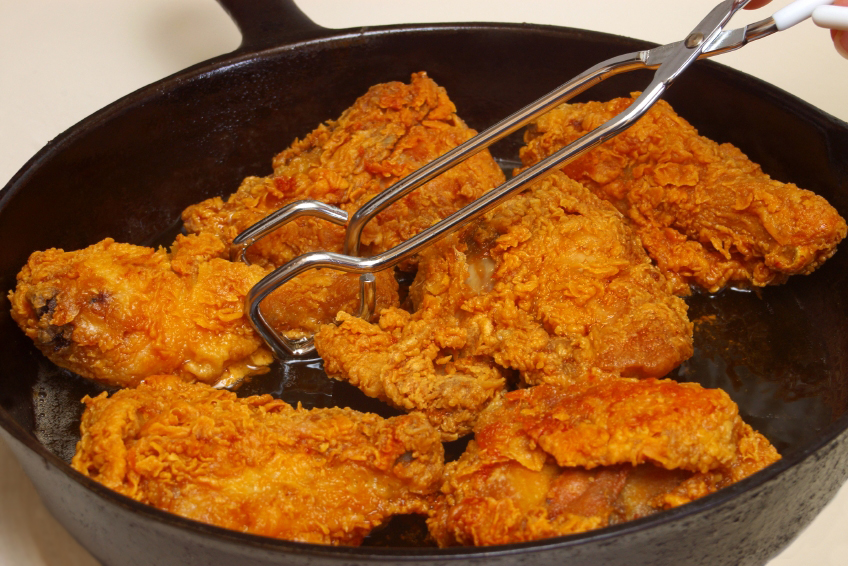 Jane's Tips and Hints:
If you love fried chicken as much as I do, quadruple the dry rub (1/4 cup each) ingredient and keep it in a jar in your cupboard. Shake well and measure 5 tbsp to make the dry rub each time you make this recipe.
Kitchen Skill: Cooking with Cast Iron
Cast iron cookware has been around for centuries for a good reason; nothing heats more evenly or holds heat longer. I still use my grandmother's cast iron skillets and will pass them to the next generation in my family one day. You can spend a lot of money on enamel-covered cast iron cookware from Le Creuset or Staub, or you can buy old-fashioned pieces from Lodge at a much lower price. Both styles work extremely well but the enamel finish is much easier to maintain and clean. I own both and appreciate each for their unique qualities.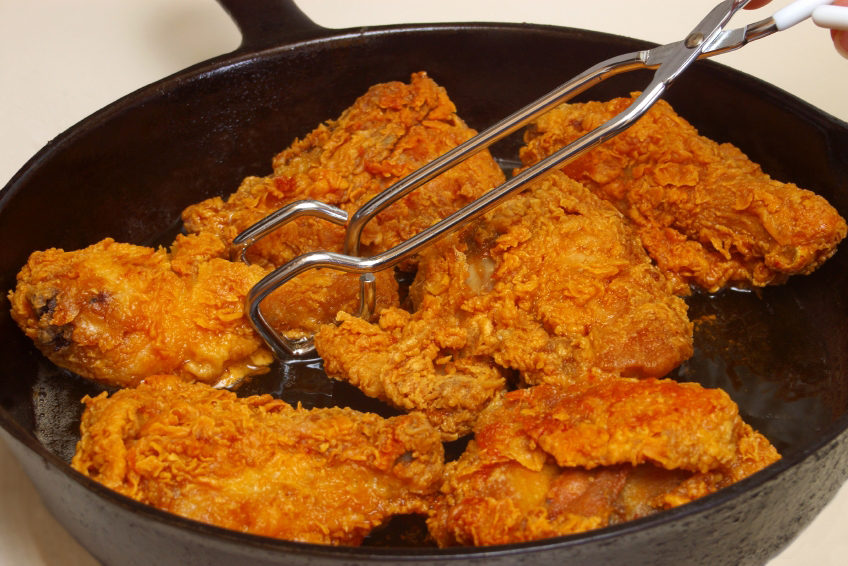 Carla Hall's Amazing Fried Chicken
2015-07-03 13:24:44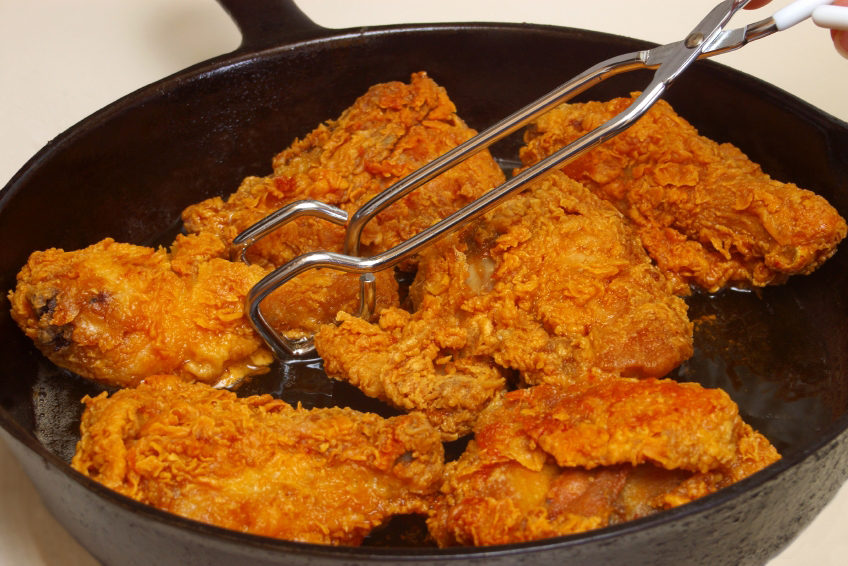 Ingredients
Dry Rub
1 tbsp salt
1 tbsp black pepper
1 tbsp garlic powder
1 tbsp onion powder
1 tbsp cayenne pepper
1 small organic chicken, cut into 10 pieces
To Fry
3 eggs
1 cup buttermilk
1/4 cup water
Flour (for coating chicken pieces) (or gluten-free blend such as Bob's Red Mill Gluten-Free All-Purpose Flour) *
Salt
Pepper
Peanut oil (for frying)
2 tbsp cornstarch
Instructions
Make Dry Rub: In a small bowl, combine the dry ingredients. Stir to blend. Place the chicken pieces in a plastic resealable bag and sprinkle with the dry rub. Seal bag and toss to coat each piece evenly. Refrigerate overnight. Two hours before cooking, remove chicken from the plastic bag and let sit in the refrigerator uncovered to dry out the skin slightly.
To Fry Chicken: Heat 1/2-inch of peanut oil in a cast iron skillet to 360°F. Use a candy or instant read thermometer to monitor the oil temperature.
Lightly beat the eggs and combine with the buttermilk and water in a shallow dish.
In another shallow dish, combine the flour and cornstarch and season with salt and pepper. Set the two dishes side by side next to the stove with the flour mixture closest to the pan.
Immerse the pieces of chicken into the buttermilk mixture and shake off the excess. Transfer to the flour mixture, covering it completely, and shake off the excess. Place it in the hot oil and fry until golden brown, using tongs to turn the chicken.
Check the chicken temperature with a thermometer. If it's not 160 degrees F yet, turn down the heat under the skillet and continue to cook.
Transfer cooked chicken to a wire rack set over a baking sheet. This helps keeps the chicken crispy. You can also place the baking sheet in a slow oven to keep chicken warm if you have to hold dinner a bit before serving.
Notes
* A question came in from a reader (thanks Hartley) asking for the ratio of flour to cornstarch for the coating mixture. There may be others with the same question. Here is my response.
Carla doesn't give specific amounts for the flour in her recipe - she cooks in the same old-fashioned style as my grandmother did and the way I do today. I fill a shallow dish about 1/3 to 1/2 full with flour. Add the seasonings and cornstarch; whisk them in. Then use this to dredge the chicken. The cornstarch is included for the extra crunchiness it adds to coatings.
Adapted from Carla Hall
The Heritage Cook ® https://theheritagecook.com/
Unauthorized use, distribution, and/or duplication of proprietary material on The Heritage Cook without prior approval is prohibited. If you have any questions or would like permission, I can be contacted via email: theheritagecook (at) comcast (dot) net. Feel free to quote me, just give credit where credit is due, link to the recipe, and please send people to my website, www.theheritagecook.com.
The intention of the content on this site is for your inspiration and enjoyment. It is not a substitute for advice given by a licensed health-care professional. You are responsible for medically confirming any dietary restrictions and ingredient safety with product manufacturers before consuming or using any product. If you have dietary restrictions, always read the labels before including any ingredient in your cooking.
As an affiliate member, if you click on links in my posts and purchase a product, I may receive a small percentage of the sale. Any commissions received will be used to offset a portion of the costs to run The Heritage Cook. If I have received products for review or had travel expenses covered, I will disclose that in the content of each article where applicable.
Thank You!