Today for the Food Network's #ComfortFoodFest we are all sharing our favorite chicken recipes. There are so many I could have shared with you, from my grandmother's chicken and dumplings to my old-fashioned roast chicken, but what resonated with me most was fried chicken with cream gravy.
I have always loved fried chicken, especially when cooked in a cast iron skillet by my grandmother. She would pack the skillet full of flour-coated pieces of chicken and then we would have to wait for what seemed forever until it was done and ready to eat. It was agonizing for a young child.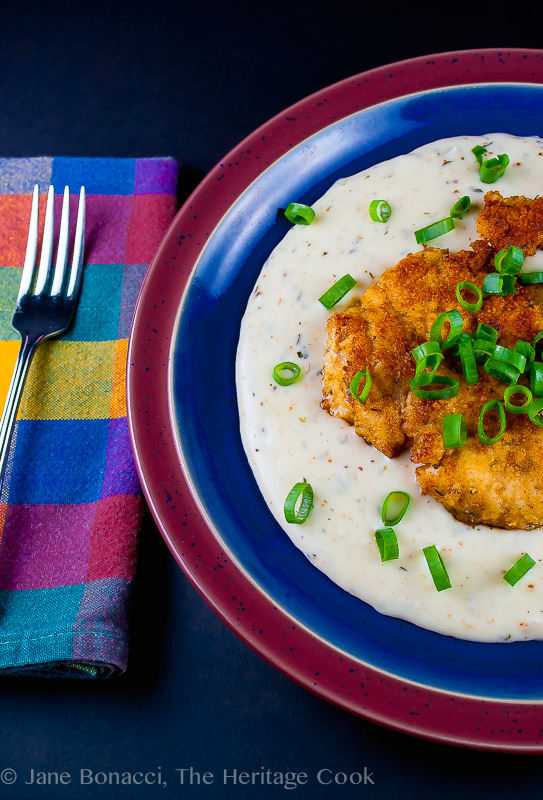 Mimi's seasoning was never more than just salt and pepper and she used a lot of vegetable shortening, until the chicken was half covered with fat. I wanted to make a dish that was reminiscent of my childhood memories, but better tasting, faster to make, and with touches that make it my own.
Boneless chicken pounded until all the same thickness (or close to it) cooks much more quickly than thicker pieces, especially bone-in. You can have dinner on the table in a fraction of the time it took Mimi to finish her skillet of chicken. Breadcrumbs (regular or gluten-free) add a nice crunch to the crust and where she used minimal seasoning, I like to add some herbs to boost the flavor.
I put my spin on the gravy too. By sautéing shallots before adding the flour (or gluten-free flour) to the fat in the pan, you get a lovely subtle onion-like flavor and a soft texture. A little wine always makes everything taste better, and Madiera is wonderful to cook with. If you haven't experienced it, give it a try! And adding thyme mirrors the seasoning in the breading, giving a classic nuance to an old-fashioned, traditional comfort food meal.
When serving batter-fried foods with gravies, it is best to put the gravy on the plate first and then set the fried food on top. This helps keep the coating crunchy. You can pass the remaining gravy at the table in case anyone wants to add more.
Brown and white foods are notoriously boring to look at, so serve this on a colorful plate and make sure you garnish the chicken with sliced green onions for bright interest. You can also serve this with brightly colored vegetables or salad to round out the meal.
I hope you enjoy this bite from my childhood with a nod to the evolution of my cooking. Check out all the recipes from my blogging friends and the Food Network staff. And follow our Pinterest page for all of our recipe collections.
Have a fabulous weekend everyone!!
Jane's Tips and Hints:
Using a combination of butter and olive oil raises the smoke point of the butter and helps keep it from burning while frying foods. The butter adds flavor and the olive oil is healthy for you. It is a winning combination!
Making the gravy before frying the chicken may seem backwards, but it is doubly beneficial. By making the gravy first and keeping it warm, the chicken is piping hot when you serve it. And stirring the remaining butter and browned bits from the pan into the gravy gives you the same flavor as using the drippings to make it. All the benefits with none of the hassle.
Gluten-Free Tips:
You can use your standard gluten-free flour blend to make the gravy or any individual gluten-free flour such as rice, amaranth, cornstarch, potato starch, arrowroot, etc. Some gluten-free flours require more liquid than others, so add more chicken stock as needed.
Breaded Chicken Cutlets with Madeira Gravy (GF Option)
2015-06-29 12:08:39
Ingredients
Madeira Gravy
1/4 cup (1/2 stick) butter
1/4 cup organic olive oil
3 shallots, peeled and finely minced
2 tsp dried thyme leaves
1 clove garlic, peeled and minced
4 tbsp all-purpose flour or gluten-free all-purpose flour blend
1 cup chicken stock
1/2 cup heavy cream
1/4 cup Madeira wine or dry sherry
Chicken Cutlets
4 skinless, boneless chicken breast halves
2 cups fresh breadcrumbs or gluten-free breadcrumbs
2 tsp dried thyme leaves
1 tsp kosher or sea salt
1 tsp freshly ground black pepper
2 eggs, well beaten
2 tbsp butter
2 tbsp organic olive oil
Sliced green onions, for garnish
Instructions
Prepare the Madeira Gravy: Heat the butter and olive oil in a large saucepan over medium-high heat. When the oil is shimmering add the minced shallots and thyme and reduce the heat to medium. Cook for about 2 minutes or until shallots are softened. Remove the pan from the heat, add the garlic and cook another 30 seconds or until the garlic is fragrant. Add the flour and whisk until smooth with no lumps. Cook for about 2 minutes or until the flour no longer smells raw, but has not browned, whisking constantly.
Slowly pour in the stock, wine and cream, whisking constantly. Continue cooking, whisking constantly until thickened and creamy. Add salt and pepper to taste. Move to a back burner and keep warm.
Prepare the Chicken Breasts: Place the chicken breasts, one at a time, in a resealable plastic bag and pound with the smooth side of a meat pounder or mallet until it is all one thickness. If your breasts still have the tenders attached, you can remove them prior to pounding the breasts and cook them separately. When flattened, transfer breasts to a parchment-lined baking sheet. Continue with remaining chicken pieces.
If you are making this meal for children, you may want to cut the chicken cutlets into strips to create chicken fingers. Little ones love them and they may be more inclined to eat all of their chicken when they can eat it with their hands!
Place the breadcrumbs in a shallow, flat dish (a pie dish works well) and season with the thyme, salt, and pepper. In another shallow dish place the beaten eggs. Set both of these containers next to the stove.
Dip the pounded chicken breasts in the beaten egg and then in the seasoned breadcrumbs. Shake off any excess and set back on the parchment-lined baking sheet. Repeat with the remaining chicken breasts (and tenders if separated).
Cook the Chicken: In a large skillet, heat the butter and oil together over medium heat. Resist the urge to turn the heat up - you don't want the butter to burn! When the butter is melted and the oil is hot, use tongs to add the chicken to the pan. Make sure to leave some room between the pieces so the butter and oil can bubble up and brown the edges. Cook in batches if needed or use a second pan. Cook until well browned on the first side, then flip and cook the second side. Continue flipping occasionally so neither side burns, sauteing until the chicken is cooked through. The timing will depend on how thinly you pounded the chicken and how hot the pan is. Mine took about 10 to 12 minutes to be cooked through. Transfer to a parchment-lined baking sheet to drain and keep warm in a low oven while you finish cooking any remaining chicken.
When all the chicken is cooked and has been transferred out of the skillet, scrape any remaining butter and browned bits into the gravy. Whisk until everything is incorporated. These browned bits will add tremendous flavor to the gravy.
To Serve: Use a ladle to pour some gravy onto each serving plate, swirling it to spread it out until it is slightly larger than the cutlets. Place a cutlet on the pool of gravy and sprinkle with the green onions. Serve immediately.
The Heritage Cook ® https://theheritagecook.com/
Create a New Tradition Today!
Make sure you check out all of these fabulous recipes from my blogging friends!
Jeanette's Healthy Living: Slow Cooker White Chicken Chili with Green Chilies
Weelicious: Roast Chicken with Caramelized Lemons
Devour: Giada's Top Chicken Dinners
Taste With The Eyes: Griddled Gochujang Chicken Sandwich, "Kimchi" Slaw and Seaweed Mayo
Napa Farmhouse 1885: Italian Chicken Stew with Olives and Kale
Red or Green?: Oven-Fried Tortilla Chicken Drumsticks
Blue Apron Blog: 5 Not Boring Weeknight Chicken Recipes
Virtually Homemade: Chicken Puttanesca
Elephants and the Coconut Trees: Spicy Deep Fried Chicken
Domesticate Me: Crispy Baked Chicken Tenders with Sriracha Honey Mustard (Gluten-Free!)
Dishing with Divya: Couscous with Chicken and Vegetables
In Jennie's Kitchen: How to Roast a Chicken
FN Dish: Winning Chicken Dinners
Unauthorized use, distribution, and/or duplication of proprietary material on The Heritage Cook without prior approval is prohibited. This includes copying and reprinting content and photographs. If you have any questions or would like permission, I can be contacted via email at theheritagecook (at) comcast (dot) net. Feel free to quote me, just give credit where credit is due, link to the recipe, and please send people to my website, www.theheritagecook.com. Please see the Disclaimers page for additional details.
Thank You!